No more waiting at CarWash.
Have your car steam cleaned in an environmentally friendly way
without moving..
Car wash at your home, your workplace or pick-up service.
Do you live in Geneva, Annecy, Annemasse, Chambery, Aix Les Bains
and their surroundings?
Clean and disinfect your car
Bio-cleaning with steam (170 °) disinfects, cleans and destroys germs and bacteria
Indeed, dry steam cleaning at 170 ° C is distinguished by its exceptional performance on most substrates. Metal, plastic, textile, stainless steel, steel, rough surface, paint. Steam cleaning adapts to all surfaces, without risk of abrasion, respecting each material. Applied under pressure, the steam acts as a natural disinfectant and degreaser. It kills germs and bacteria, dissolves grease and oil, cleans thoroughly. Diffused at a distance of one centimeter, it treats the surface to be cleaned at a continuous temperature of 170 ° C, generating a minute amount of condensate. This temperature, associated with a pressure of 8 bars at the outlet of the accessory, allows disinfection by simple thermal contact. .
Don't feel guilty…
The Steam: a cleaning solution with a minimum of water for maximum results!
Our steam generator consumes on average only 5 liters of water per hour compared to 10 to 15 liters per minute for high pressure cleaning.
We are all familiar with traditional cleaning methods that consume a lot of water, but at a time when environmental concerns are at the heart of the debate, we can easily understand why alternative cleaning methods have developed, in particular steam cleaning.
Steam cleaning can be used safely on all car surfaces. This technique has the advantage of being usable both inside and outside the vehicle.
The projection of dry steam at high temperature (170 ° C on average), cleans the bodywork without micro scratches, deeply descales tasks, offers a real capacity for renovation and maintenance on the textile surfaces of the vehicle interior and sanitize your interior by eliminating mites.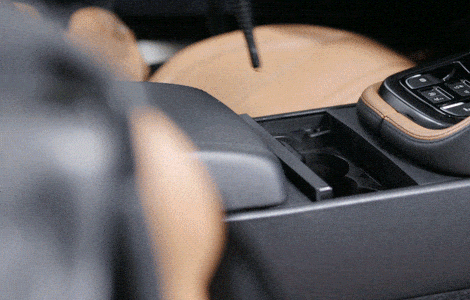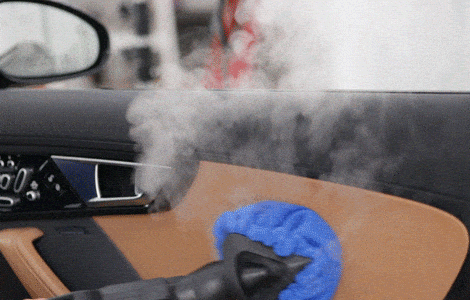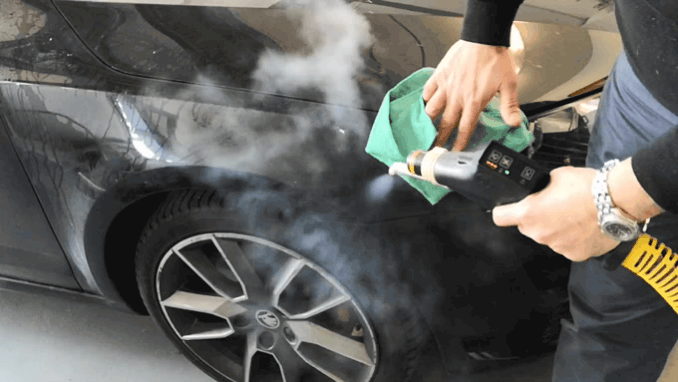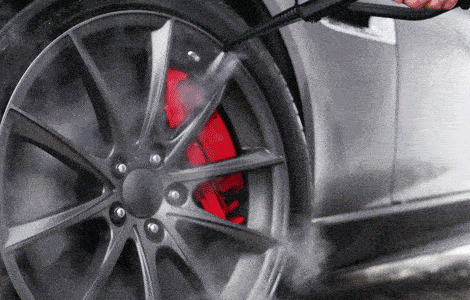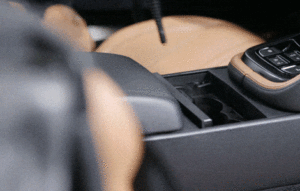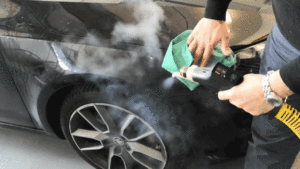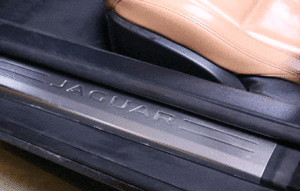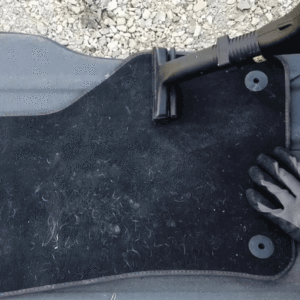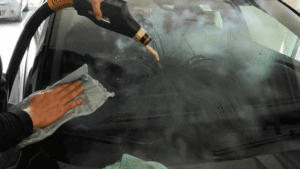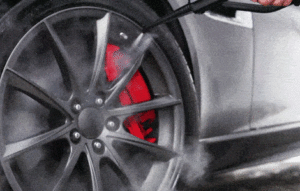 Seats & door trim
Detach and revive
The vapor rehydrates, restores and gives a new look to the leathers while doing sensational work on fabrics sensitive to water. Materials like Alcantara or leather can be safely cleaned with automobile steam cleaners, since they produce low humidity vapor (only 5% water concentration). We use a triangular tool covered with a microfiber cloth on the fabrics, or rub directly with the tool for very dirty surfaces, then vacuum. Steam is also the best way to remove stains from leather seats.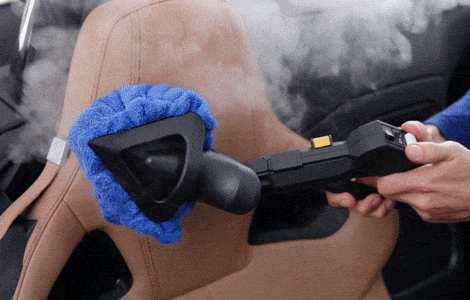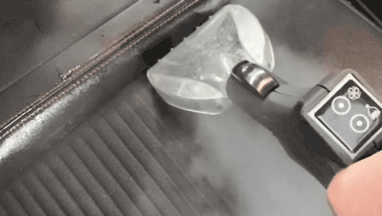 Windshield & windows
Without traces or products
Steaming a car is much easier than with chemicals, since it leaves no marks on the surface. We apply the steam with the glass tool and use the side with the squeegee to remove the moisture, or we simply spray the surface and wipe with a microfiber.
Center console, dashboard & cup holders
Dust and take off
On the center console, the steam cleaner effectively removes dust and dirt from console surfaces such as buttons, the ventilation system, crevices and all parts that are difficult to access.
The sticky residue from drinks spilled in the cup holders is easily dislodged with the lance and disappears with the passage of a microfiber cloth.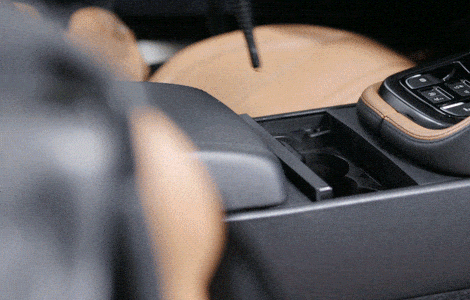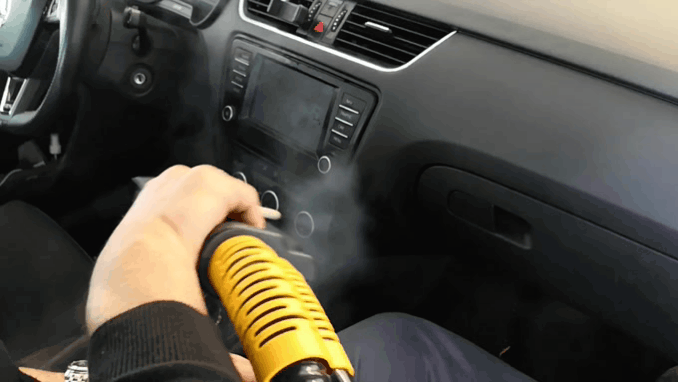 Ventilation circuit
Sanitize and disinfect
In ventilation systems, allergy associations claim that steam is the best way to eliminate allergens and mites. The intense pressure and heat produced by steam cleaners effectively dislodge dust, dirt and pathogens from ventilation systems with a single stroke of steam in each of the air vents.
Door and trunk uprights
Deep clean
The steam cleaner quickly removes dirt and grease from any surface and the heat melts stubborn grime from the door pillars and boot latches and other hard to reach places.
Simply pass a microfiber cloth after for a perfect result.
Floor mats & carpet
Rejuvenate and sanitize
As the heat of the steam dislodges the dirt and odors from the carpet, the brushes lift the fibers to rejuvenate their appearance. Carpets only take a few minutes to dry after cleaning. Subsequently, a simple vacuuming gives perfect lines.
Steam cleaning dissolves the salt that gets into the car in winter. Remove the pieces of salt with the steam lance, then using a microfiber cloth for instant dissolution of the residus.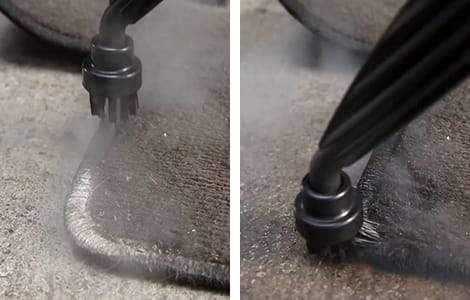 Bodywork & rims
A clean finish without scratches
Thanks to the combination of steam cleaning and quality microfiber cloths, the final result is sptless, shiny, non-greasy and without micro scratches.
The use of dry steam allows great water savings, in addition, the action of steam allows to remove dirt from the pores of the body paint, which is not the case with traditional cleaning .
Clean the rims: these are the dirtiest places and the most neglected by vehicle owners. A Steam Cleaner allows you to quickly get rid of all dust, oils and other dirt, which is very difficult to achieve with traditional cleaning.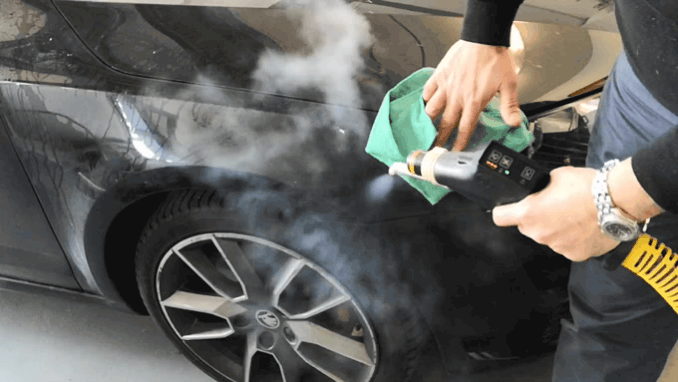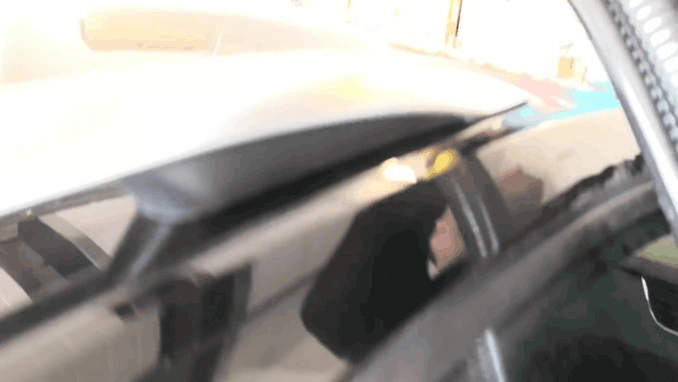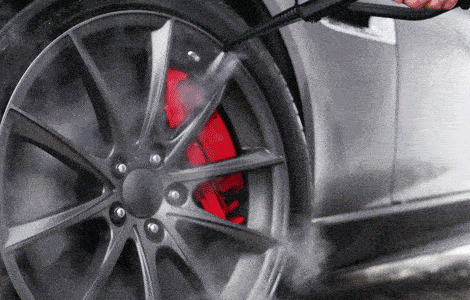 Motor and battery
Degrease without risk
Dust, oil and grease easily collect under the hood. Most conventional washes are not powerful enough to clean everything inside, but thanks to the temperature and intense pressure provided by the steam cleaner, your engine will regain its new appearance in just a few minutes. Applying steam to electronic parts and sensors under the hood is much safer than using a pressure washer.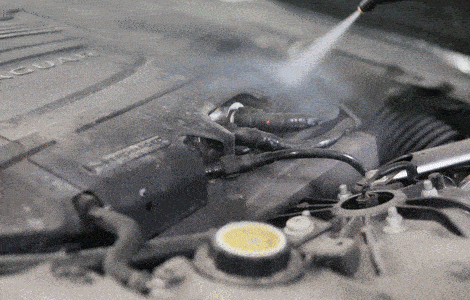 Because your time is precious
Maintain and protect your car.
Keep your vehicle looking new.
Prepare for the return of an LLD / LOA.
Prepare your car for resale.
Restoring a "new" look to a used vehicle.
Prepare your car for a ceremony.
After the holidays, summer or winter (sand, salt, snow, etc.)
Indoor washing Prémium: stain remover shampoo
Cat S: 115 Chf / 105 €
Cat S: 125 Chf / 115 €  
Cat XL: 135 Chf / 125 €  
Suction and steam cleaning of seats, door fittings, carpet and floor mats, trunk.
Window steam cleaning, interior door jambs, interior boot upright
Shine of plastics
Disinfection of the ventilation circuit.
Duration: 1h30 / 2h00
Washing PREMIUM Int / ext: stain remover shampoo
Cat S: 155 Chf / 145 €
Cat L: 170 Chf / 160 €
Cat XL: 180 Chf / 170 €
Interior cleaning: shampoo

Suction and steam cleaning of seats, carpet door trim and floor mats, trunk.
Steam cleaning of windows, amounts of interior doors,, amount of interior trunk
Disinfection of the ventilation circuit.

Exterior cleaning:

Steam cleaning of the bodywork, rims, tires, windows.

Plastic gloss inside / outside.
Tire shine
Glossy bodywork finish.
Duration: 2h30 / 3h00
Options & Supplement
Personalized service
Options:
Roof sky:
Underbody taring:
Engine cleaning:
Supplements:
7-seater vehicle (trunk seats).
Very dirty vehicle e.g. mud.
Animal hair.
All taxes included price
Travel included
Vehicle categories:
Cat S *: City car (C1, 208, DS3…)
Cat L: Compact, Sedan, SUV (BMW1 to 3, Mercedes A to C, DS4, Peugeot 3008) + 20.00 Chf / 20 Eur
Cat XL: Estate, 4X4, Monospace, Limousine + 40.00 Chf / 20 Eur
Vans (Mercedes Viano…) and special vehicles get in touch.
Required conditions:
A 16 A socket outlet at a maximum distance of 50 meters.
Sufficient space around the vehicle to be cleaned (minimum door opening).
Access to the vehicle to be cleaned with our equipment.
We ask that the vehicle be stored as a minimum.
Payment method:
CB, deposit slip, TWINT, bank transfer, cash
You can via the form request information, obtain a quote or an appointment